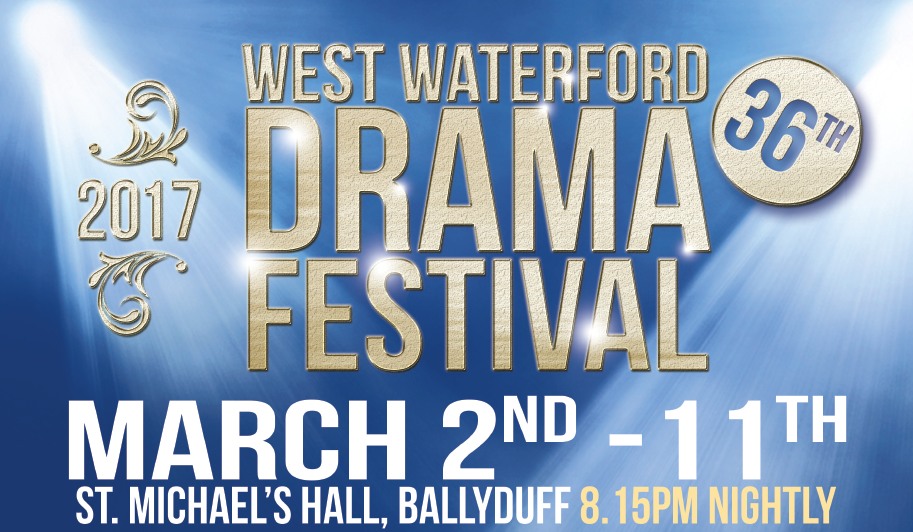 The 36th West Waterford Drama Festival takes place from the 2nd to 11th March at St Michael's Hall, Ballyduff, nightly at 8.15 pm. Booking opens on Thursday February, 23rd 2pm - 8pm at 058-60456
Our Adjudicator is Mr. Paul Brennan. The opening of the Festival will be performed by Margaret Organ, Arts Officer, Waterford City & County Council.
Thursday 2nd March - The Telephone Exchange
Take Five Drama Group presents 'The Telephone Exchange' which follows the lives of four telephonists working at the Dublin Exchange in 1963. The hours of colourful calls lead to moments of hilarity while we follow the women's personal dramas.
Friday 3rd March - The Banshee of Crokey Hill
Kilwoth Dramatic Society brings to life the story of Mickey McMahon. Recently returned from Manchester to rural Ireland Mickey is told by the local village gossip that his house is built on a fairy fort possessed by a Banshee.
Saturday 4th March - The Seafarer
Kilmeen Dramam Group presents Conor McPherson's 'The Seafarer'. The action takes place on Christmas Eve 2006, when Sharky has returned to Dublin to look after is ill brother. His old drinking buddies show up for a card game, however the arrival of a stranger from the past brings a higher stake to the table.
Sunday 5th March - God of Carnage
Moat Club Nass presents Yasmina Reza story of two couples living in Brooklyn who meet one evening to civilly discuss a playground incident involving their sons. However, as the evening goes on the parents become involved in irrational arguments and discussions.
Monday 6th - Tribes
Gorey Little Theatre's play focuses on a comically dysfunctional family, made up of parents Beth and Christopher and three grown children living at home, Daniel, Ruth and Billy, the last of whom is deaf. When Billy meets Sylvia, the family is opened up to a whole new world of communication.
Tuesday 7th March - Living Quarters
Brideview Drama Group presents a day in the life of the Butler family in Ballybeg, Co. Donegal. Frank Butler returns from United Nations service as a hero. However, on his return he learns of his young wife's affair with his son from a previous marriage.
Wednesday 8th March - A Whistle in the Dark
Enniscorthy Drama Group brings us to 1960's Coventry, where Irish emigrant Michael Carney and his new wife, Betty have been playing host to his three brothers for some time. Now the imminent arrival of his father and younger brother cause tensions to boil over.
Thursday 9th March - Closer
Curtain Call Productions bring Patrick Marber's Closer to the stage. Four lives intertwine over the course of four and a half years in this densely plotted stinging look at modern love and betrayal.
Friday 10th March - The Cripple of Inishmann
Ballyduff Drama Group's play revolves around Billy Claven, a young crippled boy living on Inishmaan. When Billy hears that a film crew from the USA are on the neighbouring island, he sets out to make a journey and seize his opportunity to see his name in bright lights!
Saturday 11th March - The Birds
Compantas Lir Drama Group brings Conor McPherson's adaption of 'The Birds' to life. Nat and Diane take refuge in an abandoned house from mysterious masses of birds violently attacking.